Malaga, Spain, 24-25 June 2018
The annual Horasis India Meeting, taking place on 24-25 June in Malaga, will bring together more than 300 members of the Horasis Visions Community to inspire India's future. Co-hosted by the City of Malaga, the Provincial Government of Malaga and the Confederation of Indian Industry (CII), the 2018 Horasis India Meeting will explore Indian firms' rise to global eminence while debating how to grow India's economy rapidly and sustainably. Delegates will also examine how to use Spain and Europe as springboard for globalization. Download Oxford Analytica's thought leadership report contributed to the Horasis India Meeting
Introduced 10 years ago, the meeting has become the foremost annual meeting of Indian business leaders and their global counterparts. With this meeting, Horasis offers business and government to discuss a wide range of issues related to the Indian economy. The location of the meeting rotates annually, and has been held in Munich (2009), Madrid (2010), Naples (2011), Antwerp (2012), Belfast (2013), Liverpool (2014), Interlaken (2015), Cascais (2016) and Interlaken (2017).
| | |
| --- | --- |
| | |
| Shobana Kamineni, President CII and Executive Vice-Chairperson, Apollo Hospitals Enterprise | Vivek Chaand Sehgal, Chairman, Samvardhana Motherson Group |
Horasis as a global visions community is dedicated to inspiring our future through the active participation of global business leaders in series of annual meetings. In addition to the Horasis India Meeting, Horasis holds meetings on China and South East Asia, as well as the all-encompassing Horasis Global Meeting.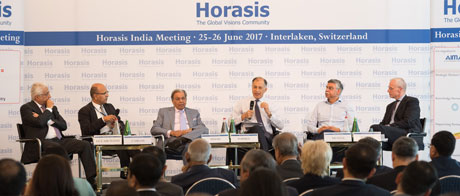 Plenary at the Horasis India Meeting
The co-chairs are:
| | |
| --- | --- |
| | Mukesh Aghi, President, US-India Strategic Partnership Forum, USA |
| | Mary V. Andringa, Chair of the Board, Vermeer Corporation, USA |
|   | Claude Beglé, President, SymbioSwiss, Switzerland |
| | Dinesh Dhamija, Chairman, Copper Beech Group, Romania |
| | Prakash Hinduja, Chairman Europe, Hinduja Group, Switzerland |
|   | Rajive Kaul, Past President AIMA; Chairman, Nicco Group, India |
| | Shiv Khera, Founder, Qualified Learning Systems, USA |
| |  Sanjay Kirloskar, Chairman, Kirloskar Brothers; Vice President, AIMA, India |
| | Arun M. Kumar, Chairman and Chief Executive Officer, KPMG India, India |
| | Rakesh Bharti Mittal, Vice Chairman, Bharti Enterprises; President, CII, India |
| | R Mukundan, Managing Director, Tata Chemicals, India |
| | Sunil Kant Munjal, Chairman, Hero Corporate Services, India |
| | Ratul Puri, Chairman, Hindustan Power, India |
| | B.V.R. Mohan Reddy, Executive Chairman, Cyient, India |
| | Murat Seitnepesov, Chief Executive Officer, Integral Petroleum, Switzerland |
| | Henry Shterenberg, President, Suntri Inc, Ukraine/USA |
| | Gunjan Sinha, Chairman, MetricStream, USA |
| | Ron Somers, Founder and Chief Executive Officer, India First Group, USA |
| | Neil Stevenson, Managing Director, International Integrated Reporting Council, United Kingdom |
| | Michael Stopford, Managing Director, Oxford Analytica, United Kingdom |
| | Frank G. Wisner, Under Secretary of State (ret.), USA |
You can use the special conditions of Official Airline Qatar Aiways: