New vision needed for future of Asia: Deputy PM
This article originally appeared on Vietnam News
BÌNH DƯƠNG — As the global economy is changing rapidly, with trade wars and unstable currencies, a new vision is needed for the future of Asia as well as Việt Nam, speakers said at the Horasis Asia Meeting 2018 that was held in Bình Dương Province on Monday.
Dr. Frank-Jürgen Richter, chairman and founder of Horasis, praised Việt Nam for its long-term vision and its use of technologies to benefit its people and businesses.
"It's part of their efforts to boost economic integration," he said. "Việt Nam is a great success story. Its economy is a new engine of growth."
At the core of Việt Nam's economic development model is a strategy based on science, technologies and innovation, he noted.
"Việt Nam is considered by the international community as a model of a successful transition economy."
Richter noted that ASEAN was also working with like-minded partners to strengthen the open multinational trading system.
Addressing the opening ceremony, Deputy Prime Minister Trịnh Đình Dũng said the Horasis meeting aimed to discover the important factors affecting Asia's future.
"With all the economic uncertainties brought by many factors, each country and each enterprise should be aware of what to do to ensure their sustainable development," Dũng said.
"More importantly, more developed countries should support developing countries in the region for the sake of peace, development and prosperity," he added.
Dũng said since its implementation of the Đổi mới (renewal) in 1986, Việt Nam has had impressive GDP growth, approaching 7 per cent this year.
Dũng noted that Việt Nam's average economic growth reached 6.63 per cent per year in the 1986 – 2017 period, and is expected to rise to 6.81 per cent this year, one of the highest growth rates in the world.
Nearly 26,000 FDI enterprises from more than 130 countries and territories are operating in Việt Nam, with committed capital of over US$330 billion.
With deep international integration, Việt Nam has become a reliable partner, with trade relations with more than 200 countries and territories around the world, Dũng said.
Việt Nam's economy is ranked 44th worldwide in terms of GDP and 34th in terms of Purchasing Power Parity (PPP). Its income per capita has increased by nearly $2,540, and PPP by nearly $7,640.
Việt Nam's 2018 Global Competitiveness Index is ranked 77th out of 140 countries, and 69th out of 190 economies in World Bank's Doing Business report.
Its workforce is young, well trained and well versed in technological advancements, he said.
As a member of the World Trade Organisation, Việt Nam has participated in 12 free trade agreements, approved the Comprehensive and Progressive Agreement for Trans-Pacific Partnership in November, and is working with the EU to finalise the trade ageeement between the two.
The country now has an important place in the world's supply chain, and investing in Việt Nam can be an opportunity to approach big markets in the world, according to Dũng.
Việt Nam will apply more innovative policies and business models, especially in hi-tech industries, focusing on infrastructure, and will encourage investment from private firms, as well as develop its partnership with other countries and territories, he said.
The country will continue to stabilise the macroeconomy, and ensure national financial and monetary security, he added.
In addition, it will continue to improve the business investment environment, remove barriers for businesses, strive to put Việt Nam into the leading group of ASEAN, and reach the standards of OECD (Organisation for Economic Cooperation and Development) member countries in terms of competitiveness, Dũng noted.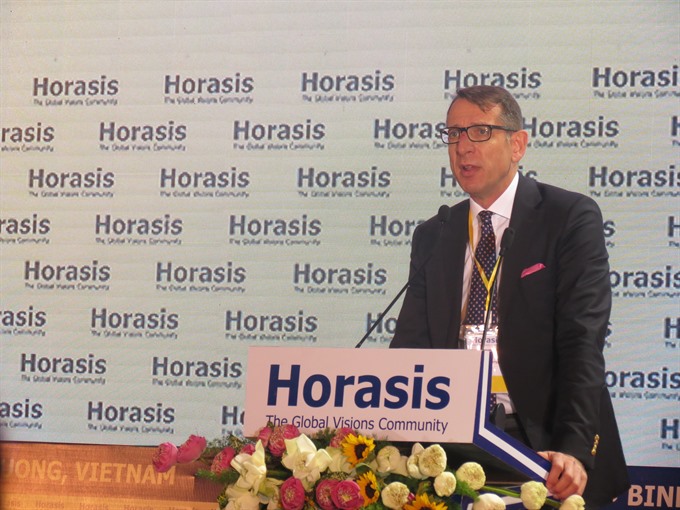 Dr. Frank-Jürgen Richter, chairman and founder of Horasis, speaks at the opening ceremony of the Horasis Asia Meeting 2018.
Việt Nam economic outlook
The global economic outlook for 2019 is expected to be more certain given Asia's continued buoyancy, speakers said.
Speaking on the sidelines of the meeting, Don Lam, CEO of VinaCapital, told Việt Nam News: "Việt Nam's stock market has been a rollercoaster for much of this year, just like other regional stock markets, although the country has fared slightly better than some other markets."
"We expect stock market volatility to continue into 2019, but that's mainly due to external factors like the trade war [between China and the US], US interest rate hikes, and a weakening Chinese currency," he said.
Phạm Hồng Hải, CEO of HSBC Việt Nam, said Việt Nam had witnessed strong economic growth with growing FDI inflows.
"We also see potential trade diversion as US import demand shifts away from China to other ASEAN markets like Việt Nam," he said.
"While this trend is a good sign, it also puts more pressure on the country and businesses when it comes to infrastructure development and more productive resource requirements that could enable the country to take advantage of the new trade dynamic," he said.
"We have seen a rising trend of protectionism and nationalism in the world. However, regional and global issues can't be resolved by one single country or company," he said.
The meeting also discussed investment opportunities in Bình Dương, artificial intelligence (AI), the ongoing development of the education sector, and business innovation, investing in Asia among others.
During the event, Bình Dương Province-based Becamex IDC Corporation signed MoUs with Nitol Niloy Group (Bangladesh) and Intelizest (Singapore).
The signings were attended by Trần Thanh Liêm, chairman of the province's People's Committee and Mai Hùng Dũng, vice chairman of the People's Committee.
The agreement with Nitol Niloy is expected to strengthen trade and investment in industrial development, education and electronics, with the aim of building a smart city.
The signing with Intelizest will foster collaboration in blockchain, AI and IoT to support technology applications for enterprises and the government.
The Horasis Asia Meeting was hosted by Bình Dương People's Committee in collaboration with the Horasis Global Visions Community, Becamex IDC Corporation, VSIP Group, All India Management Association and the Young Premier Leadership Organisation.
The meeting was convened by Horasis: The Global Visions Community.