14-16 October 2018, Kyiv, Ukraine
Horasis will convene its annual Horasis China Meeting in Kyiv, Ukraine, over 14– 16th October, 2018 – co-hosted by the Ukrainian Government and the China Federation of Industrial Economics. Global Transformation Platform is acting as strategic partner, contributing its expertise and resources to Horasis. More than 400 participants from business and government will join an intense two-day programme designed to cover opportunities and challenges that Chinese firms need to identify and address successfully as they move abroad. Furthermore, the Horasis China Meeting will play an accelerating role in the rapidly expanding trade and foreign investment between China and the Ukraine.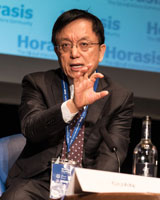 Guan Jianzhong, Chairman, Dagong Global Credit Rating
The Horasis China Meeting is a comprehensive platform for the CEOs of the world's leading companies to actively engage with China and its leaders from both business and government. The 2018 meeting will be held in Kyiv, one of the most culturally and economically vibrant cities along the Silk Road Economic Belt. With its location on banks of the Dnieper River, the city will play an important role in connecting China with Europe. Some of the functions will be attended by high-ranking Ukrainian and Chinese politicians and other public figures..
The Horasis China Meeting is the foremost annual gathering of Chinese business leaders and their global counterparts. The location of the meeting rotates annually, and has been held in Geneva/Switzerland (2005, 2006), Frankfurt/Germany (2007), Barcelona/Spain (2008), Lisbon/Portugal (2009), City of Luxembourg/Luxembourg (2010), Valencia/Spain (2011), Riga/Latvia (2012), The Hague/The Netherlands (2013), Lake Como/Italy (2014), Cascais/Portugal (2015), Interlaken/Switzerland (2016) and Sheffield/United Kingdom (2017). With these meetings Horasis aims to present a systemic view of activities affecting the drivers of China's economic success and how Chinese businesses interact globally within other nations.
The co-chairs are:
| | |
| --- | --- |
| | Anson Chan, Chairman, Bonds Group of Companies, Hong Kong SAR |
| | Pat Cox, President, Jean Monnet Foundation for Europe, Switzerland; former President of the European Parliament |
| | Feng Jiacheng, Chairman, Guangdong Hunational Investment Industrial CO., China |
| | Borja Gonzalez del Regueral, Vice Dean, IE School of Human Sciences and Technology, Spain |
| | Harry Hui, Founder and Managing Partner, ClearVue Partners, China |
| | Liu Changle, Chairman, Phoenix Satellite Television Holdings, China |
| | Shen Andong, Vice Chairman, Beijing Automotive Group, China |
| | Stan Fung, Managing Director, FarSight Ventures, USA |
| | Henry Shterenberg, Chief Executive Officer, Global Transformation Platform, Ukraine |
| | Jackie Wang, Founder and President, China Women School and Future China Society, China |
| | Sundeep Waslekar, President, Strategic Foresight Group, India |
| | Xuan Ruiguo, Chairman, China Automation Group, China |
| | Zhang Jianwei, Vice Chairman, Sinotrans, China |
| | Zhang Xiaodong, Chairman, Winhopes International Group, China |
| | Zhi Peng, President, Tsinghua Asset Management Group, China |
Horasis: The Global Visions Community is an independent international organization committed to inspiring our future. In addition to the Horasis China Meeting, Horasis hosts the Horasis Global Meeting as well as other regional events focusing on India and South East Asia.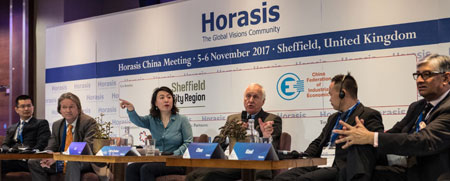 Plenary session at the Horasis China Meeting